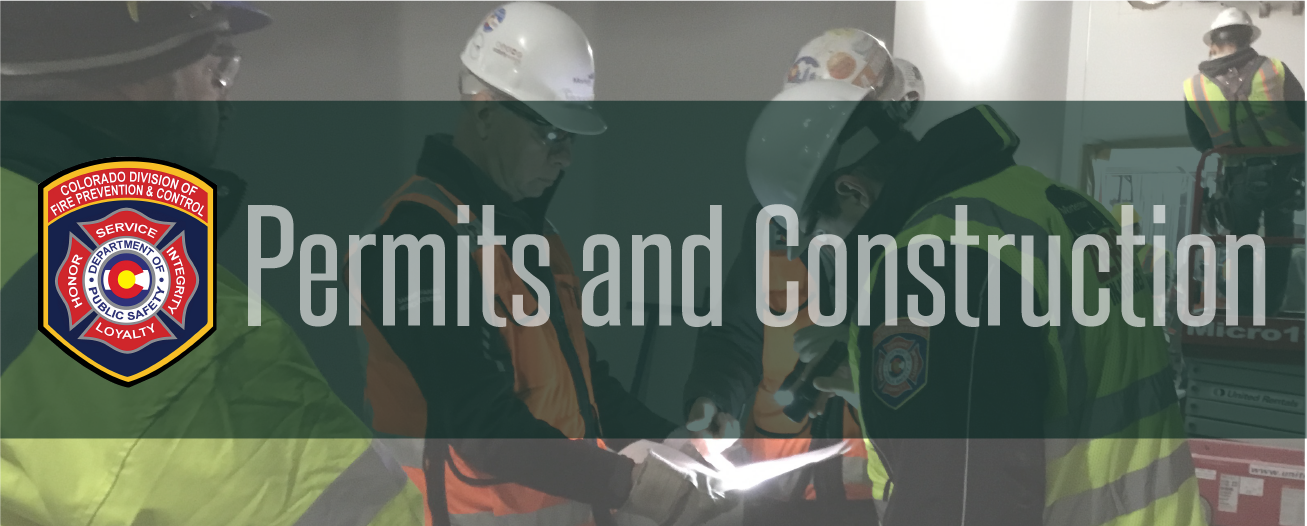 The Fire and Life Safety Section administers the fire, building, and life safety codes adopted by the Division. This administration involves the review of construction documents, issuing permits, inspecting construction, and regular maintenance inspections of regulated facilities including public school and junior college, health care, and limited gaming, waste tire, and hotel/motel facilities as well as facilities protected by fire suppression systems. In many cases, authority over regulated facilities is delegated to local fire and/or building officials through Intergovernmental Agreement (IGA) or certification. The Section is also available to assist local fire and/or building officials with plan review, inspection, or code analysis of non-regulated facilities, at their request.
You can pick up permits Monday through Friday between the hours of 8am-4pm.
Only the permit applicant/owner or an individual listed on the permit application as acting under the authority of this permit applicant/owner may pick up a permit from our offices.
NOTICE: After January 1, 2017, Paper applications and submittals will no longer be accepted for Plan Review or Permitting, without previous written permission from the Fire and Life Safety Section. Please access our online application at the following link, Fire & Life Safety Records Management System (RMS).
---
Records Management System TLS 1.1 Change Notice, 07182017
Salesforce is requiring an upgrade to TLS 1.1 or higher by July 22, 2017 in order to align with industry best practices for security and data integrity. On that date we will be disabling TLS 1.0. Action may be required prior to this date to prevent any disruption to your access to the Records Management System (RMS).
If unsure whether your browser is compatible or not, please test it using this link, https://tls1test.salesforce.com
To update your Browser, please verify that your Operating System and Browser are on this list and then follow the directions at the end to update your settings. If you have difficulty with this, please contact us at cdps_dfpc_RMSHelp@state.co.us