Upcoming Trainings
---
2017 Rural Safe Schools Summits for Staff & Students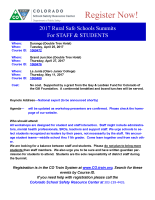 Tuesday, April 25th 2017 Summit
Double Tree Durango
Thursday, April 27, 2017 Summit
Double Tree Grand Junction
Thursday, May 11th, 2017 Summit
Otero Junior College La Junta
Cost: No cost. Supported by a grant from the Gay & Lesbian Fund for Colorado of the Gill Foundation. A continental breakfast and boxed lunches will be served. Registration is in the CO Train System at www.CO.train.org. Search for these events by Course ID. A free co.train.org account is required to register.
Keynote Address: Rosalind Wiseman, internationally respected author and educator, will be the keynote speaker. You don't want to miss her presentation on supporting diversity in our schools. (Author of Queen Bees and Wannabees, the book that was the basis of the movie, Mean Girls.)
Who should attend:
All workshops are designed for student and staff interaction. Staff might include administrators, mental health professionals, SROs, teachers and support staff. We urge schools to select students recognized as leaders by their peers, not necessarily by the staff. We encourage student teams-middle school thru 11th grader. Come learn together and from each other.
We are looking for a balance between staff and students. We will accommodate 14 people per school, a ratio or 1 adult to 6 students. We also urge you to be sure and have written guardian permission for students to attend. Students are the sole responsibility of district staff during the Summit.
---
PREPaRE Workshop 2, Training of Trainers.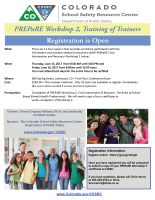 Registration link. Opening Soon. Training has a preqequisite
Cost: $240.00—This includes materials. Only 10 spots are available so register immediately.(the course will be cancelled if we have less than 8 registered.)
Location: 690 Kipling Street, Lakewood, CO—First Floor Conference Room
Time: Thursday, June 15, 2017 from 8:00 AM until 4:00 PM and Friday, June 16, 2017 from 8:00am until 12:00 noon. You must attend both days for the entire time to be certified
Prerequisite: Completion of PREPaRE Workshop 2- Crisis Intervention & Recovery: The Roles of School-Based Mental Health Professionals. We will need a copy of your certificate to verify completion of Workshop 2. Once you have registered you will be contacted to submit a copy of your PREPaRE Workshop 2 certificate to CSSRC.
This is an 11-hour session that provides workshop participants with the information and practice needed to become a NASP PREPaRE Crisis Intervention and Recovery Workshop 2 trainer.
Trainer: Franci Crepeau-Hobson, Ph.D. and nationally certified trainer.
Sponsor: The Colorado School Safety Resource Center, Department of Public Safety
---
Options for Training on Request
Adult Sexual Misconduct in Schools: Prevention & Management
Sponsored by The Colorado School Safety Resource Center and the Colorado Association of School Boards
L364 Multi-Hazard Emergency Planning for Schools
Threat Assessment in Schools: Best Practices and/or Suicide Intervention Overview
Youth Mental Health First Aid (for adults working with youth)
Other CSSRC Training Options Available Upon Request