Creating, Supporting, and Sustaining Trauma-Informed Schools: A System Framework
New Framework released by NCTSN for Trauma-Informed Schools. 
---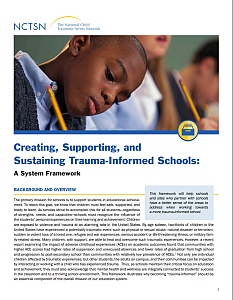 The NCTSN System Framework for Trauma-Informed Schools provides strategic guidance in order to achieve the vision of a trauma-informed school described above. It is not a prescriptive roadmap for a one-size-fits all approach. Instead, it includes core areas that will help to focus educational system improvements and organizational changes. These core areas can be applied to each of the three intervention tiers to create a trauma-informed environment within the school system while identifying those who are at risk or might need more intensive support to address their traumatic stress or loss symptoms.
Available now for download [PDF].  This resource and others from NCTSN and others are available on Trauma Resource page.