NORTH RIM OF THE BLACK CANYON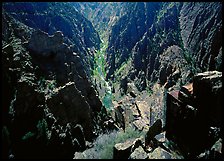 Information copied from Wikipedia
Black Canyon of the Gunnison National Park is a United States National Park located in western Colorado and managed by the National Park Service. There are 3 entrances to the park. The more-developed east entrance is located 37 miles (59 km) east of Montrose and just west of Blue Mesa Reservoir by Blue Mesa Point. The south rim entrance is located 15 miles (24 km) east of Montrose, while the north rim entrance is 11 miles (18 km) south of Crawford and is closed in the winter. The park contains 12 miles (19 km) of the 48-mile (77 km) long canyon of the Gunnison River. The national park itself contains the deepest and most dramatic section of the canyon, but the canyon continues upstream into Curecanti National Recreation Area and downstream into Gunnison Gorge National Conservation Area.
The Ute Indians had known the canyon to exist for a long time before the first Europeans saw it. By the time the United States gained independence in 1776, two Spanish expeditions had passed by the canyons. In the 1800s, the numerous fur trappers searching for beaver pelts would have known of the canyon's existence but they left no written record.
In 1881, the Denver and Rio Grande had reached Gunnison from Denver. It pushed its narrow gauge line through the canyon in 1882, taking a year to build the last mile. In March, 1883, it completed its connection to Salt Lake City and for a brief period the canyon was on the main line of a transcontinental railroad system. By 1890, an alternate route through Glenwood Springs had been completed and the route through the Black Canyon, being more difficult to operate, lost importance for through trains. The route was finally abandoned in 1955.
While the railroad and early visitors used the canyon as a path to Utah and mines to the southwest, later visitors came to see the canyon as an opportunity for recreation and personal enjoyment. Rudyard Kipling described his 1889 ride through the canyon in the following words: "We entered a gorge, remote from the sun, where the rocks were two thousand feet sheer, and where a rock splintered river roared and howled ten feet below a track which seemed to have been built on the simple principle of dropping miscellaneous dirt into the river and pinning a few rails a-top. There was a glory and a wonder and a mystery about the mad ride, which I felt keenly..." The area was established as a U.S. National Monument on March 2, 1933. It became a National Park on October 21, 1999. During 1933-35, the Civilian Conservation Corps built the North Rim Road to design by the National Park Service. This includes fives miles of roadway and five overlooks; it is listed on the U.S.National Register of Historic Places as a historic district.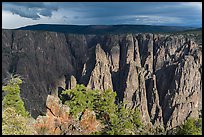 For more information visit http//en.wikipedia.org/wiki/Black canyon of the Gunnison National Park