CSSRC Scenario Snapshots APP out now for iOS and Android.
---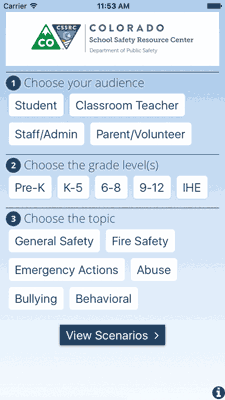 Description
CSSRC Scenario Snapshots is a new app to conduct simple scenario based learning on school emergency procedures with a variety of school audience members including adults and students across all grade levels.  This app was designed for use by school based law enforcement, campus security and administrators working in school safety.  This innovative tool has been developed by the Colorado School Safety Resource Center. Available now for Ios and Android.
Instructions:
Select the appropriate audience member to be addressed, grade level and topic from the main screen or the app can randomly select a topic for you.  Present the selected scenario to the audience member, listen to their responses and engage in a conversation based on the responses provided in the app (taking into account school or district policies).  Finally provide suggestions to the audience member that may help them in the event of an actual emergency.  Each scenario should take no longer than 3 minutes, making this a great tool to evaluate individual readiness within your school in a limited time frame.
CSSRC Scenario Snapshots Contains sample scenarios for the following audiences and grade levels. Topics will be added and/or changed on a regular basis, so check back often for new scenarios. Scenario cards will automatically update on launch of the app.
Audience members:

Students
Teachers
Staff & Administrators
Parents & Volunteers
Bus Drivers
Grade levels:

Preschool
Kindergarten-5th Grade
6th-8th Grade
9-12th Grade
College or University